After more than a decade in development, El Equipo had its world premiere at the Santa Barbara International Film Festival on 10 February 2023.

El Equipo is a feature-length documentary by my longtime friend and colleague Bernardo Ruiz. The film explores the 1980s origins of the Argentine Forensic Anthropology Team (EAAF) and their influence on international human rights and accountability since.

In the aftermath of the Argentine military junta of 1976-1983, a chance encounter between a delegation of U.S. scientists and a group of Argentine university students led to a remarkable collaboration which would change the face of forensic anthropology and offer new hope to victims' relatives in their search for answers and accountability. El Equipo tells this story through a combination of archival footage (some of it never-before-seen) and interviews with members of the team as well as other first-hand witnesses. The film transports the audience to exhumations and missions in places including Argentina, El Salvador, Guatemala, Mexico, Iraqi Kurdistan, and Zimbabwe.

Bernardo started exploring the story and conducting interviews around 2012. I became intermittently involved in the project in 2015 when he and I traveled to Buenos Aires for preliminary research and interviews. The trajectory of the project had an eerie overlap with places of personal significance in my life – from Argentina to El Salvador and Mexico – countries where, as a younger person, I had the chance to see the damaging impacts of state violence and widespread human rights abuses. Since those times, I had been impressed and encouraged by EAAF's rigorous, scientific approach to collecting evidence of such crimes – forensic evidence always seemed particularly challenging for the perpetrators to deny or deflect. Needless to say, the chance to help tell this story was a dream come true, and I was thrilled to support the film as a consulting producer.
Much like El Equipo tracks the EAAF's growth and expanding activities over the decades, the team behind the film also developed over the years – the production benefitted immensely from some amazing talents who propelled it to another level: Fabián Caballero, Gabriela Alcalde, Pedro Urgiles, and Steve Fisher to name just some of the team. I learned so much from collaborating with them, and enjoyed every chance to contribute in whichever ways I could (transcribing, photo restoration, discussing the storyline, the dilemma of trimming minutes, fact-checking, and helping field-produce some interviews – even being something of a photographer, I had no idea how much equipment goes into a film shoot!). Behind that team was Bernardo, who pursued the project for more than a decade and mobilised the resources to get it over the line and onto a screen near you!
It's truly exciting that El Equipo is finally out and that the EAAF's powerful story will reach new and wider audiences. The first screenings of El Equipo are:
In the United States, El Equipo will air and stream on PBS later in 2023 (dates still being confirmed).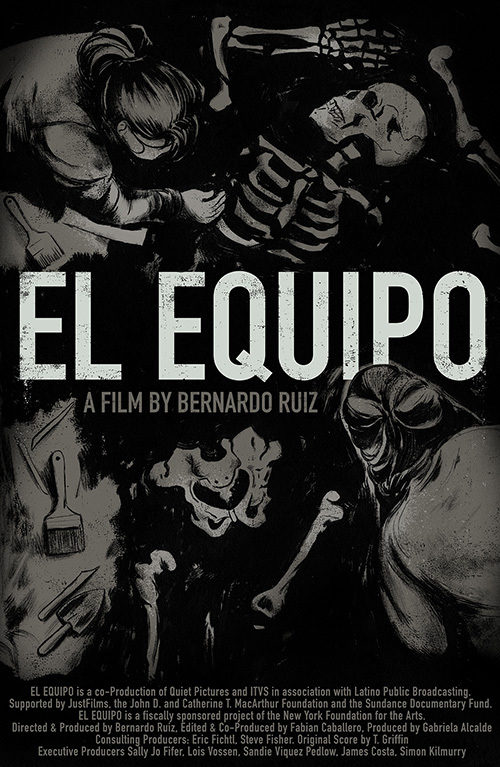 ---
Notes